Medical Identities in Global History
Approaches to global history often attempt to address the role of nation-states in the construction of historical narratives, while deconstructing the Eurocentric assumptions in the expression of history. Historians have now moved away from understanding history in terms of binaries and accepted that transfer, spread, diffusion, understanding of knowledge is multi-directional. In the history of medicine, these translations often involve the generation, negotiation, and interaction of identities.
This conference seeks to bring together postgraduate students, early career researchers, and scholars in history for a two day conference on the topic of medical identities in the past. Medical identities are grounded in the interactions between self, body, and health, with the social, political, cultural, and intellectual context of medical knowledge. Interrogations of these relationships in a global historical perspective reveal important narratives of identity creation and complex webs of power relations. 
In addition to panel presentations from a selection of speakers, this conference will host three engagement conversations: One focused on building collaborative networks amongst participants, one on public-outreach, and one round-table discussion for Early Career Researchers.
---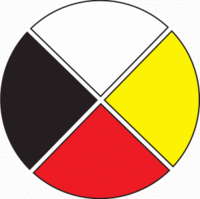 Indigenous North American symbol for the Medicine Wheel
Historical themes for submissions:
Transcending geographical/national boundaries
Embodiment and experience of health, disease, or medical identities broadly
Intellectual and medical power connected with processes of imperialism / colonialism / territorial expansion and commercial gains in global markets
Indigeneity, ethnicity, and nationality
Hygienic modernity, medical education, hospital cultures
Movement and immigration, oceanic and territorial space
Eugenic theories, Mental Illness, and Psychiatry
Gender and Sex
Material culture - Objects - objects in migration
Role of media in identity construction
---
The conference is not exclusive in theme and welcomes submissions which reflect a diversity of approaches to the concept of medical identity. Proposals with a clear application to public outreach or interdisciplinary collaboration are especially encouraged.
This conference may be able to provide small travel grants for up to two postgraduate students, at the value of £150.00. Please mention in your email if you would like to be considered for one.
We welcome proposals for 20-minute paper presentations. Abstracts should be maximum 250 words, alongside a short biographical description not exceeding 100 words.
---
Paper proposals and descriptions should be emailed to medical.identities@history.ox.ac.uk by January 30, 2019.